Restorative Dental Procedures
Restorative Dentistry in The Woodlands, TX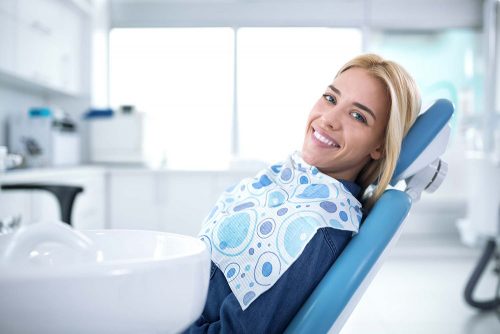 Tooth decay is fairly common in our society today with the amount of acidic and sugary foods that we eat. It is vital to take care of any early signs of tooth decay. In doing so it can help protect tooth health and prevent expensive procedures and tooth restorations down the line.
Call the Dentists at Creekside to make an appointment today if you think you have any signs of tooth decay. At our office we are able to do restorations such as cavity fillings, crowns, inlays & onlays, and even root canals. We guarantee our restorative dental procedures will give you the smile you can proudly show off and feel good about. Don't hesitate to call our office!
Dental Fillings
Problem
A cavity has formed, which is a small hole in the tooth and is a sign of tooth decay.
Solution
A simple filling is can fix the issue if the cavity is small enough.  In doing so the dentist will remove the decayed parts on the tooth and fill those parts with composite fillings which are popular among patients because the appearance matches the natural color of their tooth. Or the dentist can fill the area with a silver amalgam as well. Our options help fix early on detection of tooth decay and can help prevent further decay from spreading.
Alternatives
What happens if you cavity gets a little bigger and can't be restored with just a normal small filling? Inlays and onlays are the best suitable option in this case.
Inlays & Onlays
Problem
When tooth decay becomes more severe causing the tooth to lose its structural integrity.
Solution
This procedure is similar to a regular filling, but there will be more drilling to remove the alrger amounts of tooth decay. Since the decay is more severe, more of the your natural tooth will be removed. Once that is complete the dentist will tkae the proper measurements of your tooth to make the proper inlay or onlay. Afterwards the inlay or onlay will be fitted and cemented creating a reliable and sturdy restoration. Porcelain is the main option for most dental offices as it creates a very natural look that will last you a lifetime if taken care of properly.
Alternatives
If  tooth becomes worse than the two previously stated scenarios, then your next option would be a crown.
Dental Crowns
Problem
Dental crown work is necessary if your teeth are seriously decayed, broken, or severely weak.
Solution
There are different types of crowns to choose from if required. The nice thing about crowns is that they will make your smile still look natural while protecting them from further damage. One option is to get a crown made of porcelain. Several patients choose this option because they match the color of your teeth and can be indistinguishable from them. If you want, our office has the ability to do gold crowns. Believe it or not, several people choose gold crowns and are very happy with their decision. What's nice about gold crowns is they have no risk of cracking or chipping and can be a preferred option for molars and premolars.
Alternatives
If your teeth have become decayed well beyond those that are in need of a crown, then it may be time for extraction. That means needing an implant or bridge as a solution.
Fixed Dental Bridges
Problem
Missing teeth can make life difficult, especially when it comes to eating and speaking. Not having teeth could also possibly lead to jaw issues which is can be much more difficult to fix and more costly. Fixing missing teeth is vital to keep the health of your mouth and jaw in tact as well as your wallet. ​
Solution
Dental Bridges are a great solution for restoring your smile and confidence. Bridges can offer a more permanent treatment than partial dentures or flippers. Our dentist will take a mold of your mouth where teeth are needed then will send that mold off to the lab. Your bridge will then be cemented and placed to create a natural look and restores the natural function of your teeth. One option for a bridge is a resin-bonded bridge. With a resin-bonded bridge, the artificial tooth is held in place by a metal appliance that is attached to the back of the surrounding teeth, creating a natural secure feeling in the patient's mouth​.
Alternatives
The remaining alternative are dental implants. This solution is permanent and relies on the jaw bone for support and not the surrounding teeth.
MOST INSURANCES WELCOME AND MAXIMIZED!
NEW PATIENT SPECIALS & FINANCING OPTIONS AVAILABLE.
Contact us and schedule your visit today.
The Proof is in Our Patients

"I had an exceptional experience at The Dentist at Creekside! The office is very inviting, and the staff was very polite and helpful! They make you feel like you are at home and not at a dental office which is very hard to do. The Doctors were very knowledgeable, and the hygienist was Very nice and helpful! She was extremely thorough and patient with me and my concerns. I will definitely recommend this office to everyone!"
"Let me be clear I have always hated going to the dentist! But since I have been a part of the Dentist's at Creekside family I don't mind so much. In fact for the first time in my life these visits do not cause me any anxiety. My dental hygienist Karlie is amazing. She is so gentle and thorough when she cleans my teeth. The entire staff here is friendly and caring. The atmosphere is nice and they have TV's to watch while you receive your treatments. I always leave with a big beautiful smile. If you are looking for a dentist group that feels like family, cares about you, does a great job and makes you feel good about your next visit this is the place to go."
"My family and I have been going to The Dentist at Creekside for about a year now and every visit has been perfect. The hygienists are all so nice and gentle and unlike most dentists office, they actually care. 10/10 would recommend."
"I have to say this is the best dentist office I've been to. The staff is super friendly and helpful. They are also are very fast and polite. The hygienist works really fast and explained everything perfectly. The female dentist was super cool and was straight forward with me. She also helped with removing some issues I had struggled with for years and helped me to regain the confidence I'd been lacking with my smile. I would recommend their service to anyone. I'm super happy with the results and will be visiting them again. Thanks to Dentist at Creekside :)"
$150, Exam, X-Ray, and
Routine Cleaning
Open Daily For Your Convenience!
Monday 7:00 am – 7:00 pm
Tuesday 7:00 am – 7:00 pm
Wednesday 7:00 am – 7:00 pm
Thursday 7:00 am – 7:00 pm
Friday 7:00 am – 3:00 pm
Saturday and Sunday :Closed
Walk-ins and emergency appointments are available!
OUR LOCATION
The Dentists at Creekside
| | |
| --- | --- |
| Monday | 7:00 AM – 7:00 PM |
| Tuesday | 7:00 AM – 7:00 PM |
| Wednesday | 7:00 AM – 7:00 PM |
| Thursday | 7:00 AM – 7:00 PM |
| Friday | 7:00 AM – 3:00 PM |
| Saturday | Closed |
| Sunday | Closed |